(Last updated March 2020)
Notes Section, Citations, and Preview Button
Notes Section
The Question Design Editor provides a Notes field in the Page Info section, which is simply another location to keep notes regarding the construction of the A2J Guided Interview. Authors often use this space to note that "conditions" have been included in the Question or explanations of why questions were phrased a specific way (see figure below). The Notes cannot be seen by end users, but are visible to any authors who open the A2J Guided Interview in A2J Author. The Notes are included in the Citation report that can be generated on the Reports Tab. 

Figure: Add Notes for reference.
Citation Fields
Citation fields allow authors to additional information to the question text, Learn Mores, and logic sections to explain why they asked questions a certain way or wrote logic statements as they did. This can be a formal citation to a statute or regulation or a more informal note based on your organization's guidelines as of X date. There are three citation fields for each page of an interview. You can put a citation in the question info, the Learn More info, and the logic sections. See figured below. On the Report Tab, you can run a Citation Report that will pull together all the citations from all the pages into one report so that they can be easily verified or "Shepardized". The Citation Report also pulls in all the Notes fields (see above for more information on the Notes field).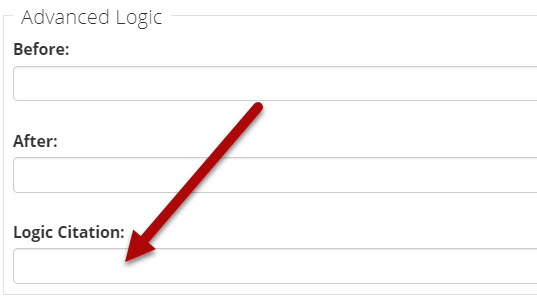 Preview Button
The "Preview" button at the bottom of the Question Design Editot (figure below) allows authors to see the Page in action as the end-user will eventually see it when published. Previewing is a good way to troubleshoot advanced conditions written on that Page and subsequent Pages. For more on troubleshooting under the "Preview" mode, see the "Preview Mode" chapter.

Figure: Preview button at the bottom of the Question Design Editor.