Background
From 1999-2001, the Access to Justice, Meeting the Needs of Self-Represented Litigants: A Consumer Based Approach ("Meeting the Needs") Project successfully identified the major barriers to access to justice for self-represented litigants. A key insight of the Meeting the Needs Project was that the simple act of filling out forms raises unique challenges that the many low income self-represented litigants have trouble overcoming. The project also determined that special care would be required if technology were to be introduced into the justice system to meet the needs of self-represented litigants.
These findings led to the creation of the Illinois Joint Simplified Dissolution of Marriage Prototype ("JSDM Prototype") (see Figure 1). This prototype was custom-designed software that provided a web-based interface for pro se litigants to complete the forms required for a joint simplified dissolution of marriage in Illinois. The JSDM Prototype interface has been tested by
users from the Illinois statewide legal services website (www.IllinoisLegalAid.org) and evaluated by user interface specialists at the Illinois Institute of Technology Usability Lab. The user interface developed for the JSDM Prototype is elegant, simple and powerfully effective – it is the "front-end" needed to make court document assembly and electronic filing more widely accessible to self-represented litigants. Though the JSDM Prototype proved to be a powerful tool, creating a customized user interview was time consuming and costly.
In 2004 Chicago-Kent College of Law's Center for Access to Justice and Technology partnered with the Center for Computer-Assisted Legal Instruction ("CALI") to create A2J Author® - a factory or a software machine to make hundreds of these front-ends for court forms, at a very low cost.
A2J Author® capitalized on the front-end interface developed in the JSDM Prototype, while providing enhanced functionality that allows authors to create guided interviews on their own. A2J Author® included a desktop authoring tool and a web-based player that combine to enable rapid, low cost construction of customer friendly interfaces for web-based guided data collection and document assembly without the need of a professional software developer. These A2J Guided Interviews® gently lead unsophisticated end users through a web-based interview with visual and audio cues.
In addition to being user friendly for the consumer, A2J Author® is also designed to make it easy (perhaps fun) for court staff, law students, and public interest lawyers to create A2J Guided Interviews® with little technical assistance or training. A2J Author® includes a graphical flowchart map that displays the entire dialogue for the interview to the author to facilitate complex branching (see Figure 2).
The "branching" feature lets the author create a dialogue that assists the end-user (self-represented litigants) by asking only the questions that need to be answered.
A2J Author, HotDocs, and the "National Server - our partnership with ProBono Net's LawHelp Interactive
Much of the success of the A2J Author® stems from its compatibility with the Law Help Interactive Server. The LHI server provides internet-based document assembly services powered by the HotDocs software. After an A2J Guided Interviews® is created, it is then uploaded to the LHI server and combined with its corresponding HotDocs form template to create an interactive interview for court forms. The HotDocs template is a digital representation of a blank court form that allows information collected by the A2J Guided Interviews® to be manipulated and inserted in the proper position on that form.
A2J Guided Interviews® are made available over the internet through court and statewide websites. The "front-end"software, A2J Author®, developed by Chicago-Kent and CALI, joined with the "back-end"technologies of the LHI server, HotDocs and LHI management tools, provide a full end-to-end solution (see Figure 3). This combined effort makes it possible to provide user-friendly assistance to thousands of self-represented litigants in a rapid and cost effective manner and make the help available wherever there is internet access.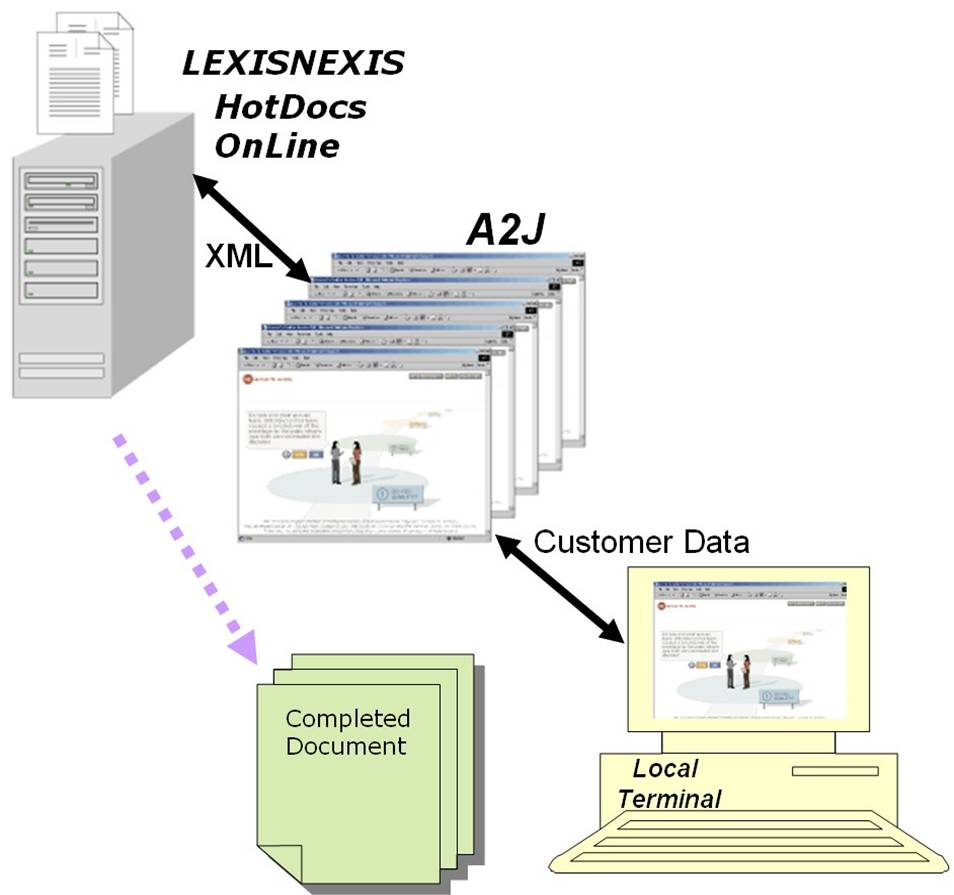 Demonstrated Capabilities 
Early, in 2005, the Center for Access to Justice & Technology demonstrated capabilities of A2J Author® by building A2J Guided Interviews® for the project's pilot partners in Illinois (Illinois Legal Aid Online and the Cook County Courts) and in California (California Administrative Office of the Courts). The Illinois A2J Guided Interviews® include "Security Deposit Complaint"interviews for tenants and an "Application for Waiver of Court Fees and Costs." In addition, three California A2J Guided Interviews® were built in partnership with the California AOC to demonstrate A2J capabilities, including: "Petition for Adult Name Change,""Application for Waiver of Court Fees and Costs,"and an "Application for an Order for Service of Summons by Posting and Mailing."
Since the first production release of A2J Author® in September 2005, legal aid offices and courts in a variety of states have begun using the A2J Author® tool on their own. For example, Idaho Legal Aid Services, Inc., as of late 2007, had completed twenty-nine (29) of A2J interviews including, divorce, landlord/tenant, name change and small claims packets. Idaho's A2J Guided Interviews® received over 58,000 hits in September 2007 alone.
Illinois Legal Aid Online has used A2J Author® to create a "Post Judgment Collections Guide" that guides users through the process of collecting court judgments, and an "Expungements" Guided Interview that is used in connection with an expungement help desk in Chicago's Cook County courthouse. As of September 2007, twenty-nine (29) A2J Guided Interviews® have been made available to the public on Illinois Legal Aid Online and another nine (9) are in the final stages of review.
A2J Author® is gaining users and supporters daily and is steadily becoming a nationally recognized tool to meet the needs of low-income and self-represented litigants. For example, sixty (60) percent the over $2.1 million awarded to State Justice Institute and Legal Services Corporation partner grants announced in September 2007 include funding for A2J Author® projects. These grants position 2008 to be a banner year for A2J Author® as Georgia, Idaho, Iowa, Kentucky, Maine, New York, Ohio, Washington, and West Virginia each begin new A2J Guided Interviews® projects.
Case Management and E-Filing Integration
Chicago-Kent and CALI continue to make improvements and enhance the functionality of A2J Author® based on feedback from the A2J Author® user community. These enhancements include integration with e-filing and case management systems.
The A2J Author® project team has partnered with the U.S. District Court of Eastern Missouri to make A2J Guided Interviews® the pro se front-end to the U.S. Courts' Case Management/Electronic Case Files (CM/ECF) system (see Figure 4.) Once completed, the A2J Guided Interviews® and e-filing integrated technology will be made readily available to all other U.S. Courts interested in similar pro se interface projects. Iowa Legal Aid has recently completed a pilot project that integrates A2J Guided Interviews® with the Pika case management system used in a large number of legal aid offices across the country.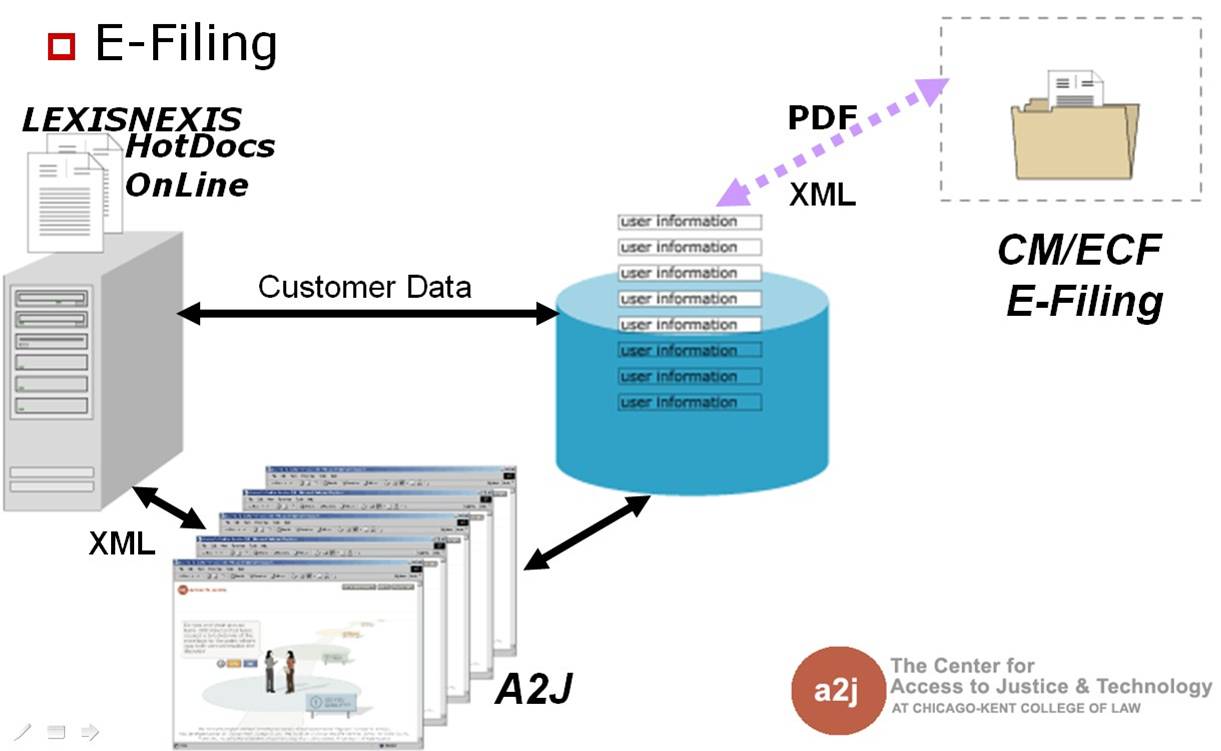 Version 2.0
Several enhancements, many of which were suggested by A2J Author® users, have been included in Version 2.0. While some of the improvements in 2.0 face the pro se users of the A2J Guided Interviews®, most of the improvements have been aimed at enhancing functionality that will make the tool more efficient and easier for the authoring community to use.
For the authors of A2J Guided Interviews®, increased functionality includes the ability to: set multiple variables in a single condition; round and truncate numbers; script macros for sign text and field labels; script functions in either lowercase or uppercase letters; add unlinked questions to an interview; add or insert automatically numbered questions without disturbing the existing numbering scheme; and, for replicated interviews, clear all audio file references if they do not apply to the current interview. Developers will also find that it is much easier to move between screens in the program. Many other fixes and formatting changes were also made that make the authoring of A2J Guided Interviews® more efficient for developers.
Developers will also be able to sort text and number lists making selection from a multiple choice list easier for the pro se user. Another 2.0 feature aimed at the user is an alternative end graphic. This feature provides the developer the ability to exchange the traditional courthouse graphic for an alternative graphic designated by the author. With the increasing popularity of the program as a means to conduct online web intake, programs will now be able to designate a graphic more in tune with the purpose of the interview.
In addition, as part of the A2J Author® 2.0 project A2J Guided Interviews® will be able to be integrated with "live help" vis-à-vis a Live Help selection mechanism which will exist on the National Server. Live Help functionality will be enabled as a "wrap-around" interface to any A2J Guided Interviews® associated with a program currently using LiveHelp. Adding Live Help will allow pro se litigants to get personalized help during their A2J experience.
Finally, the A2J Author® 2.0 project generated an XSL Transform for LSXML. Initially tested by Iowa Legal Aid, and now available on the Community Website, this tool allows A2J Author® to more easily "plug into" electronic filing systems and legal aid case dockets, making A2J Guided Interviews® the standard interface for pro se information collection (see Figure 5.)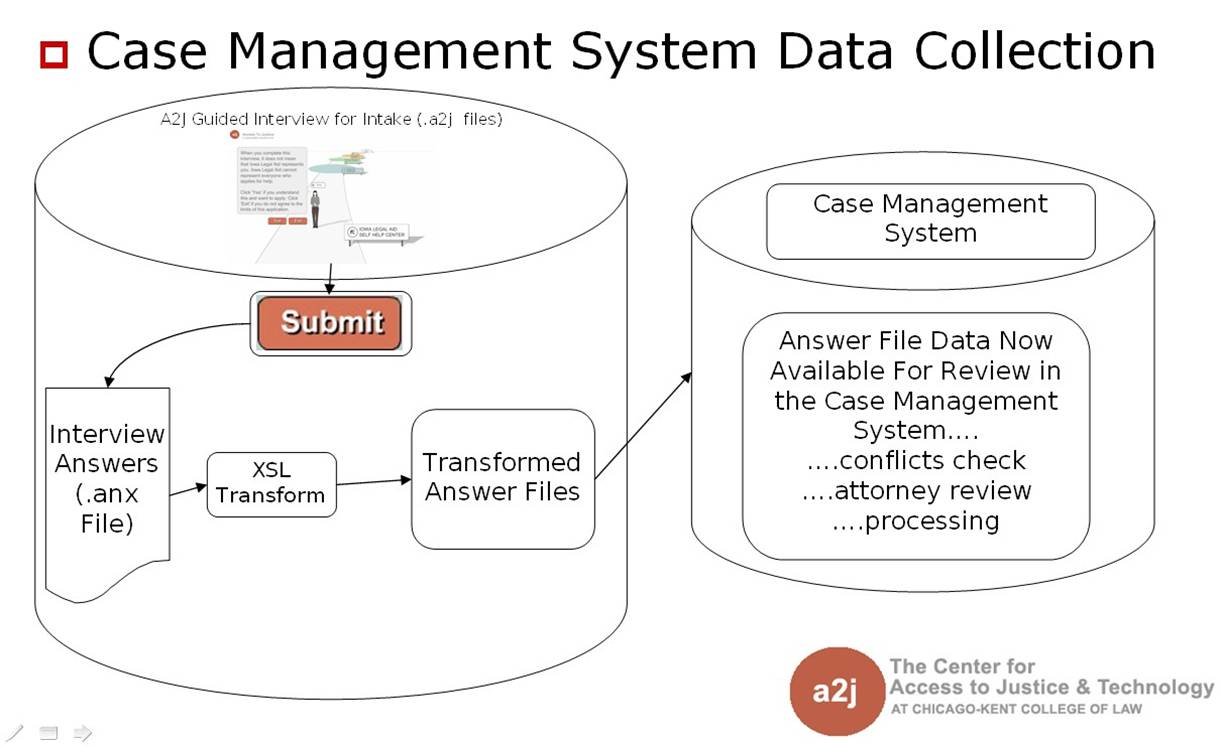 Version 3.0
Released in early 2010, the upgrades in 3.0 improve both the end-user experience and the A2J Guided Interviews® authoring process. The most significant enhancement is the ability for A2J Guided Interview™ authors to add video or graphics components to questions. This is an especially useful tool to further explain or model complex issues for A2J Author® users.
Enhancements to A2J Author® 3.0 offer users a variety of program possibilities, including:
the ability to add graphics and video components to guided interview questions with the option of creating full-screen visual display for viewer satisfaction and ease;
graphic and view options that allow users to give their clients visual explanations of the more complicated court forms, procedures, processes, etc.;
an exit feature which enables users to customize the interview exit process and instructions with the option of leaving guided interviews before they are completed and saving the answers on the national server;
the ability to create new interviews more efficiently by adapting previously designed questions or question sets and their underlying data components from existing A2J Guided Interviews®; and
visual consistency as they navigate between their site, A2J Guided Interviews® and the interview host site with the capability to create and add a "branding logo" to the A2J Guided Interviews® interface.
Version 4.0
Released in December 2010, the upgrades in A2J Author® 4.0 focus on improving the interview experience for the end-user. Some additions are "senior-focused" including the ability for the end-user to control the font size and sound volume. Version 4.0 also incorporated several new features as well as improvements upon existing features, including:
Audio/Video Start/Stop/Rewind: In addition to having control over the volume of audio and video clips, end users may now stop, start and rewind the clips. Additionally the audio/video control box includes an indicator of how long the audio or video clip is and how much of the clip is left while playing. These features will greatly benefit end-users with hearing impairments and limited literacy.
Calculator: Authors of A2J Guided Interviews® may now choose to have a graphical calculator widget appear with any number or dollar field. When the end-user clicks the calculator icon a larger fully-functioning calculator pops up. The calculator feature helps ensure accuracy and makes it easier and more efficient for the end-user to complete questions.
Calendar: Similar to the calculator, authors of A2J Guided Interviews® may choose to include a graphical calendar widget with any date field. When an end-user selects a date on the calendar, the chosen date automatically populates the date answer field in the question box. The calendar feature helps ensure accuracy and makes it easier and more efficient for the end-user to complete questions.
Enhanced Save & Resume: With A2J Author® 3.0 end users gained the ability to save a partially answered interview and return at a later time to complete it. With A2J Author® 4.0 when an end-user launches an interview with a saved answer set they will begin on the question where they exited from.
Version 5.0 
Version 5.0 was released in 2014. It was an interim version of the authoring tool as we transitioned from Flash to HTML and JavaScript.  
Released in August 2014, A2J Author version 5.0 was a complete rewrite of the authoring platform. Previous versions of A2J Author were written in Flash. A2J Author 5.0 was re-written in HTML/jQuery. Version 5.0 is also no longer a downloaded piece of software. It is a cloud based web service run off of the www.a2jauthor.org website.
Cloud based authoring: Previous versions of A2J Author, based in Flash, required the download of the authoring software to a computer running Windows. A2J Author 5.0 can be run on any computer or tablet running a modern internet browser. The files are no longer locally saved, but saved to the cloud under the author's account on www.a2jauthor.org.

Files: contains all the files associated with your A2J Guided Interview, including .mp3, .mp4, and .xml files. This information was previously only available on the Upload tab.

All Logic: Shows all the logic or advanced conditions running in your A2J Guided Interview. You can easily edit only the advanced logic.

All Text: Shows all the text in your A2J Guided Interviews, including the question text, learn more text, and pop-up text. Allows you to easily edit using the search and replace feature in your browser.

Report: A readability score has been added to your full report.

Interviews: Shows all of your A2J Guided Interviews associated with your authoring account. It also includes several sample A2J Guided Interviews for you to test and build off of.

Mobile responsive A2J Viewer for your end user. 
Version 6.0
Version 6.0 was released in April 2017. It contains a simple template automator, eliminating the need to use additional software tools to automate basic documents. 
You can learn more about the Document Assembly Tool that was added in version 6.0 here. 
A2J.org
In December of 2019, A2J Author released it's own hosting site a2j.org. A2J.org allows anyone to host their A2J Guided Interviews and A2J DAT Templates for free, so long as those forms are used to help self-represented litigants. You can learn more about a2j.org and see the A2J Guided Interviews currently available here. 
To learn how to publish your A2J Guided Interviews to a2j.org, check out this guide. 
Version 7.0 
Version 7.0 was released in September 2020. It compartmentalizes the major components of the A2J Authoring System and allows each code base to be used and updated independently of the others. There are three major components of A2J Author: the A2J Author authoring tool used to create the A2J Guided Interviews, the A2J Document Assembly Tool (A2J DAT) used to create the back end templates that overlay the user's answers with the underlying form, and the A2J Viewer which is the "player" used by end users to run the A2J Guided Interviews. All three also share an A2Jdeps dependencies file. 
Also in version 7.0, the A2J Authoring System was officially opened sourced. Anyone can run A2J Author on their own systems and everyone is encouraged to add to the code base. A2J Author is currently open sourced under a GNU Affero General Public License. 
You can find the code in our Github repositories:
Image: