(Last updated June 2020)
Reports allow authors to see either their entire A2J Guided Interview or parts of it in a one place. A2J Author creates a report of the different components of an A2J Guided Interview that can be read or printed. Reports of A2J Guided Interviews® are available in three formats: Full Reports, Text Reports, or Citation Reports. To create a report, first go to the Report Tab. There you will find a tool bar with options for a Full Report, a Text Report, a Citation Report, Print Preview, and the ability to Hide Text Grading. (See figure below.)

Figure: Report Tab navigation options
Upon opening the Report tab, the Full Report will automatically generate. When you select one of the other Report options, the area underneath the navigation bar will populate with the desired report. If you have a long A2J Guided Interview, generating a Full Report may take a little bit of time. You'll see a spinner icon in the middle of the screen if the report needs additional time to load. The Print Preview opens the desired report in a new browser tab. From there, the author can use their browser's print option to print the report if desired. 
Full Report
A Full Report can be used for troubleshooting an A2J Guided Interview or peer review.  A Full Report includes the following elements:
A2J Guided Interview Information - the metadata recorded under the About Tab. 
Interview Steps
Interview Variables - a count of the variables, the names, types, whether the variables are set to hold repeating values, and any comments associated with those variables.
Interview Pages

Page Name
Notes
Question Text
Text Citation
Text Audio
Learn More Prompt
Help Text (Response)
Help Citation (Response)
Help Graphic
Help Video
Help Reader (Graphic Alt-Text)
Loop Variable
Nested Loop
Outer Loop Variable
Before Logic
After Logic
Logic Citation
Field information

Type
Label
Variable
Default Value
Required
Max Characters
Min
Max
Invalid Prompt
Sample Value
External List
Internal List

Buttons

Label
Variable
Value
Next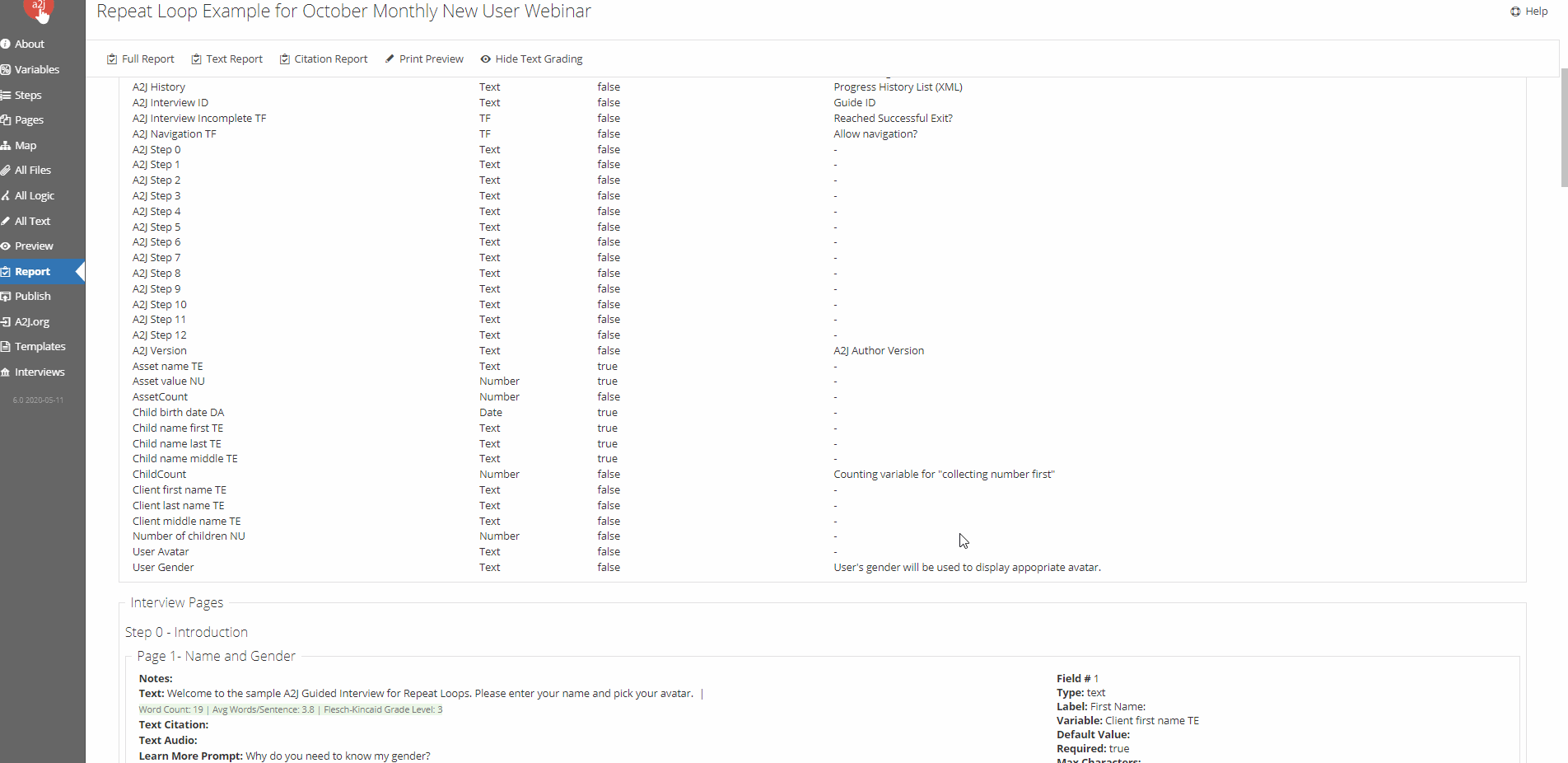 Figure: A Full Report.
Text Report
A Text Report is a slimmed down version of the Full Report, only including the relevant text of the A2J Guided Interview for purposes of creating translations and recording audio clips to add to the tet sections. Of course, like the Full Report, it may also be used for peer review of the text of the A2J Guided Interview. A short sample of its format is pictured below.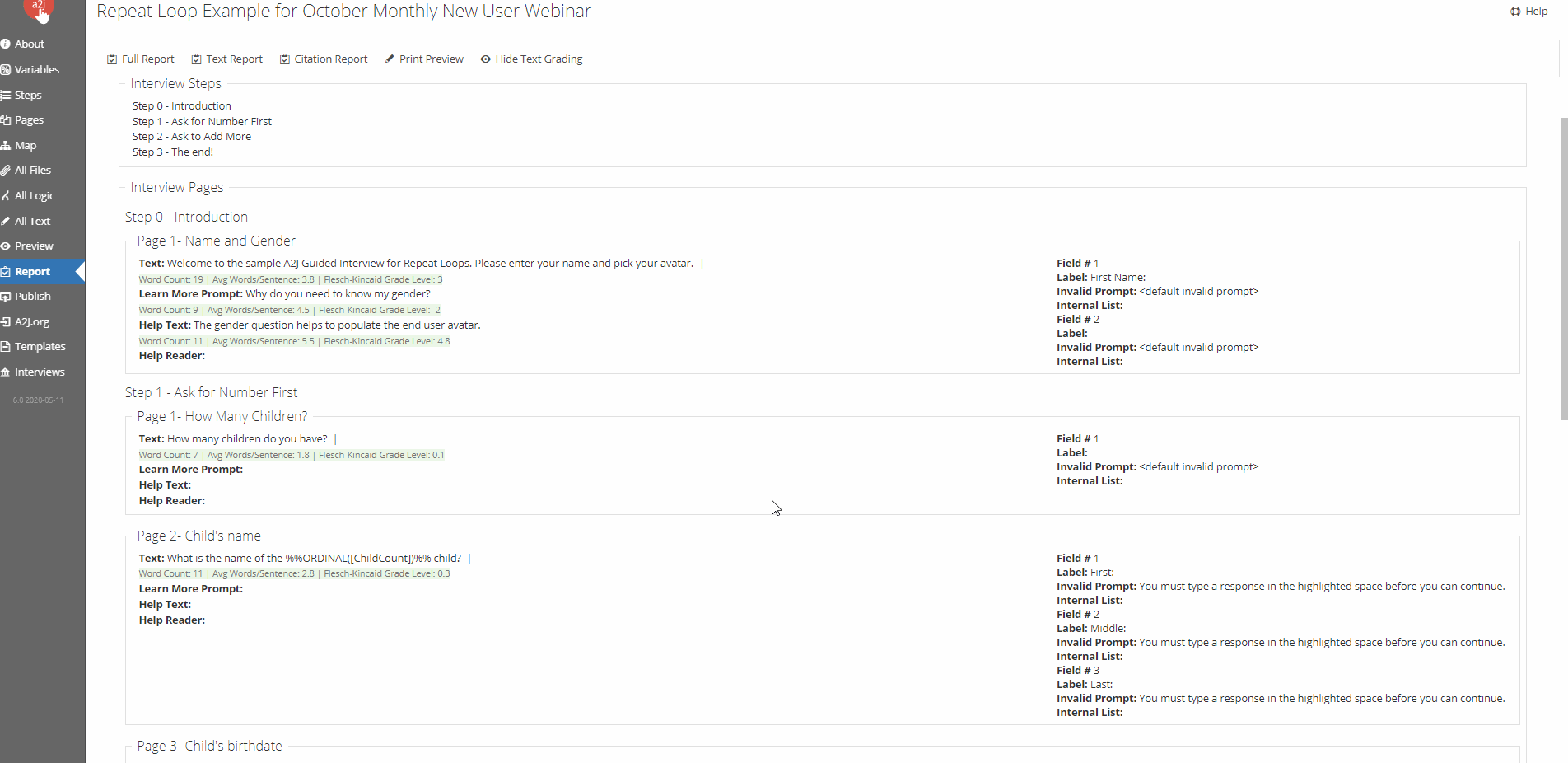 Figure: Sample Text Report
Citation Report
The Citation Report generates a report of all the notes and citation fields that are within the A2J Guided Interview. This is helpful for authors who want to run a regular check on the law or assumptions that underlay their interview. When creating A2J Guided Interviews we recommend that authors include notes and/or citations about why they are asking questions a certain way or why they are using certain numbers or variables in logic statements. 
Ex. The logic statement says:
IF [User income NU] > 35000

GOTO "1-Does not qualify"

END IF
The author should note in the Logic Citation field what the 35,000 number denotes. (Is it based on the federal poverty guidelines? Is it based on a guideline from the legal aid organization or the court? Does it come from a statute?) This information should be included in the citation field or the notes section for the entire page.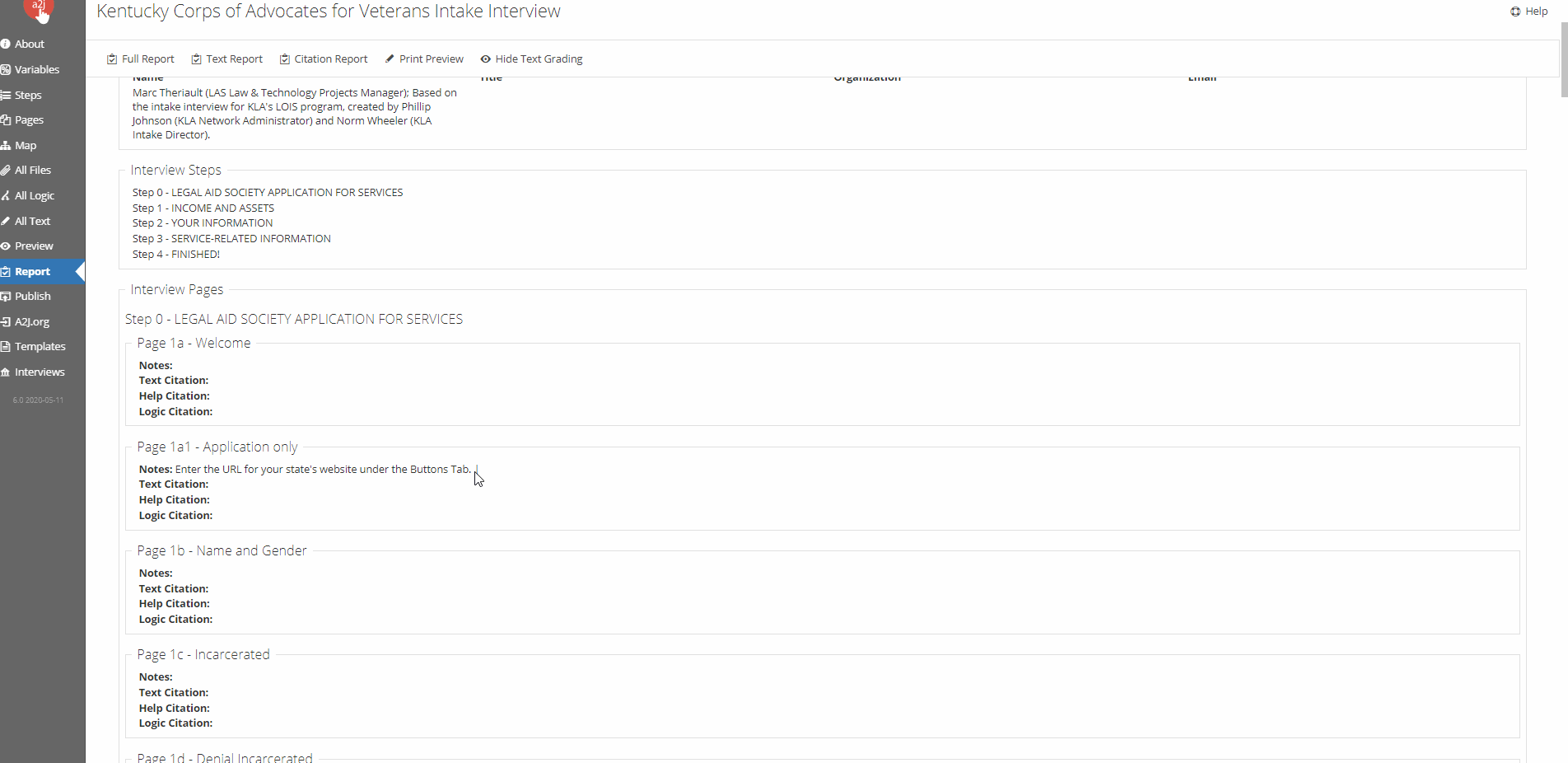 Figure: Sample Citation Report